Support the Troops - Ribbon and Bracelet Sale
Help Pinecam support our brave soldiers in harm's way. Show your pride for our troops by displaying a distinctive Pinecammer ribbon or wearing a bracelet that expresses our heartfelt appreciation for them. In doing so, you not only make a critical contribution to the morale of our soldiers, but help make it possible for us to cover the mailing costs of our shipments.

Pinecammers Support Our Troops Yellow Ribbon - $5.00
This is a magnet ribbon, 3 5/8 by 8 inches, that you can stick on your car, refrigerator, or whatever to show you support our troops overseas and that you're a proud member of the Pinecam Community.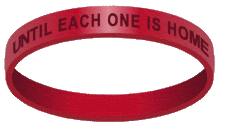 Red Bracelet - $5.00
Show your deep appreciation of our troops by wearing this red bracelet everywhere you go.
You have two ways to purchase these ribbons and bracelets:
In Person
You may purchase ribbons and bracelets as well as make contributions of both comfort items and money at various fairs, functions, and Safeway during this spring and summer. Watch for announcements in this forum with information on where and when TSAC members and Pinecam volunteers will have a booth setup.
Come on by and meet other Pinecammers in person. We'd love to meet you!
Order by Mail
1. Print the Order Form
<a href=http://home.earthlink.net/~germinating/PinecamOrderForm.pdf target=blank>pdf version</a>
<a href=http://home.earthlink.net/~germinating/PinecamOrderForm.jpg target=blank>jpeg version</a>
2. Fill in the order form and send it along with your check or money order payable to Pinecam, Inc. to:
Pinecam, Inc.
attn. Troop Fund
PO Box 2552
Dillon, CO 80435
3. Remember to add postage to your order total:
postage: $1.00/1-2 items, $3.00/3-5 items, $5.00 > 5 items
4. You will receive your order within two to three weeks.
We
our troops! Thank you for your generous support!
:USA:
100% of the Troop Fund is used for shipping items to the oversea troops and expenses
associated with promoting and performing troop support fund-raising activities.